About AOC
AOC is a brand of TPV Technology – the world's largest manufacturer of computer monitors, with a 33% global market share. With its own brand, TPV is aiming to move up market from a white label hardware producer and original design manufacturer for other brands to an end-customer market presence of its own.
AOC designs and produces a full range of LCD TVs and PC monitors, sold worldwide. AOC Gaming is also a challenger on the gaming market, offering stylish monitors and peripherals for gamers.
We designed and implemented the new AOC website to be the heart of the company's digital communication for the entire western hemisphere, operating in 14 languages across 40+ regions.
Overdue for an update
AOC had multiple reasons to upgrade their website:
The old website publication process was clunky and time-consuming, leading to costly mistakes and delays.
AOC's business requires frequent changes to multiple product pages. Often, it took months for the old provider to build new pages, and AOC had to pay for every change.
The old website had an outdated user interface and design, which reduced the search capabilities, conversion rates, and sales.
Last but not least, gaming is one of the two main pillars of AOC's business, but the visual presentation of the old website was not standing out from the competition.
In 2021, it was decided that AOC Gaming would undergo major restructuring and rebranding. It was the perfect opportunity to create a new website with a strong visual identity and better technical capabilities.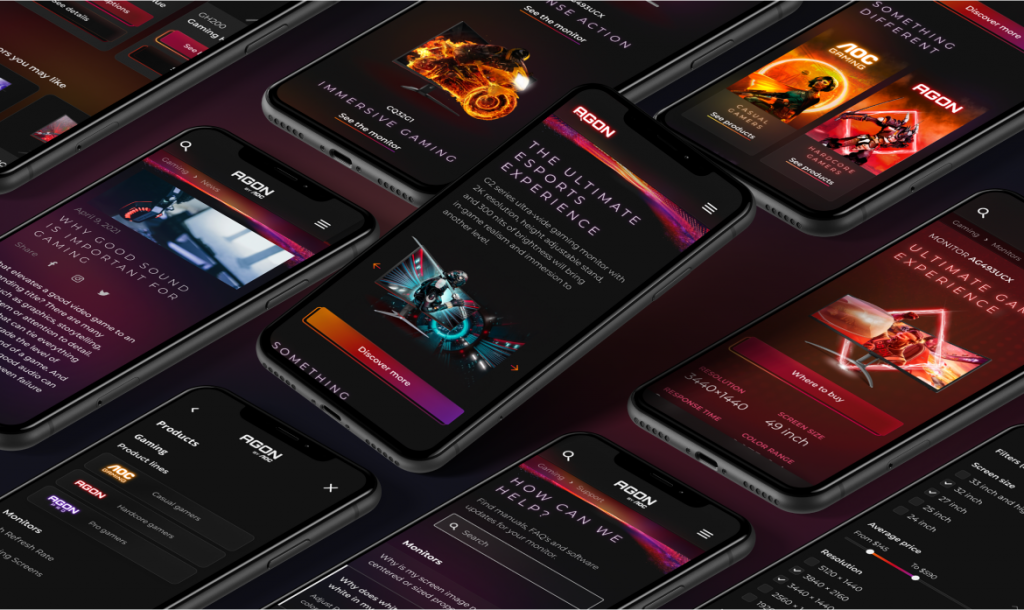 Cutting-edge visuals meet optimized performance
Our approach focused on five main areas:
Perfectly smooth user journeys
We created a website prototype optimized for various user journeys. Working closely with the client team, we prepared dazzling visuals, identified assets that would be needed, and optimized performance with accessibility in mind.
Amazing visuals for amazing products
To match the high-quality images that gamers are used to, our design team prepared state-of-the-art visuals that perfectly present the products.
A search that always finds what you are looking for
The product search engine needed to be typo-resistant and able to handle a variety of user searches: by product name, code, or features. To achieve this, we used the advanced Elastic Search mechanism.
Flexible and simple content management
Less personel rotation, better employee engagement, loyalty and good spirits. Brand identity that your employees can relate to is something your HR will thank you for.
Time-saving integrations for faster product launches
The most crucial API connection for the website was PIM (product information management system). We created a fully automated solution – simply type a SKU code into the CMS and within seconds, a new product landing page is ready to be published in 14 languages.
How we worked together
Robust discovery workshops allowed us to define user needs and technical constraints. Core content and customer journey workshops defined our priorities for optimizing the website flow.
The integrations were complex but the website needed to be launched quickly. By working agile, we could pivot and incorporate changes as needed.
As the launch of the new website was related to the redesign of AOC's product lines, all product assets had to be created from scratch. We worked closely with AOC's design department to produce new visuals. At the same time, our tech team was closely cooperating with third-party vendors to deliver all necessary software integrations.
Do you have a project in mind? Let's create something together. Reach out