Let's get personalized
Our client Phone Decore is the owner of multiple e-commerce sites selling electronic accessories, cosmetics, books and clothing.
Being sales experts always looking for ways to expand they found a new niche that they wanted to develop. They came to us with an idea to create a shop that helps you buy the perfect personalized gifts for any occasion.
Fast time-to-market plus great customer experience
Our task was to find a solution that would allow Phone Decore to quickly enter the market with a store that perfectly understands their customer's needs.
The e-shop had to attract three audiences. First – B2C customers looking for a unique gift for a special occasion. Second – B2B market segment that is looking for gifts for employees, mostly holiday season. Third – anybody looking for truly personalized gifts – unique and personal, with dedications, engravings and custom packaging.
Shoppers and admins should always find what they look for
Our approach was to build straightforward e-commerce with a powerful, extensive filter system at the heart of the solution, that helps the buyer make the best purchasing decision.
We also knew that most of the store's visitors would use it on mobile, so we focused on providing an extra smooth mobile shopping experience.
From the administrator's perspective, the goal was to provide maximum flexibility and speed of use. We used WordPress Gutenberg Blocks, thanks to which admin changes every element on the page on a fly. Deals of the day, news, categories, promotions, descriptions, prices, you name it – they all can be edited literally in seconds. All this to create an ideal user experience will allow shoppers to choose the perfect gift and return for more.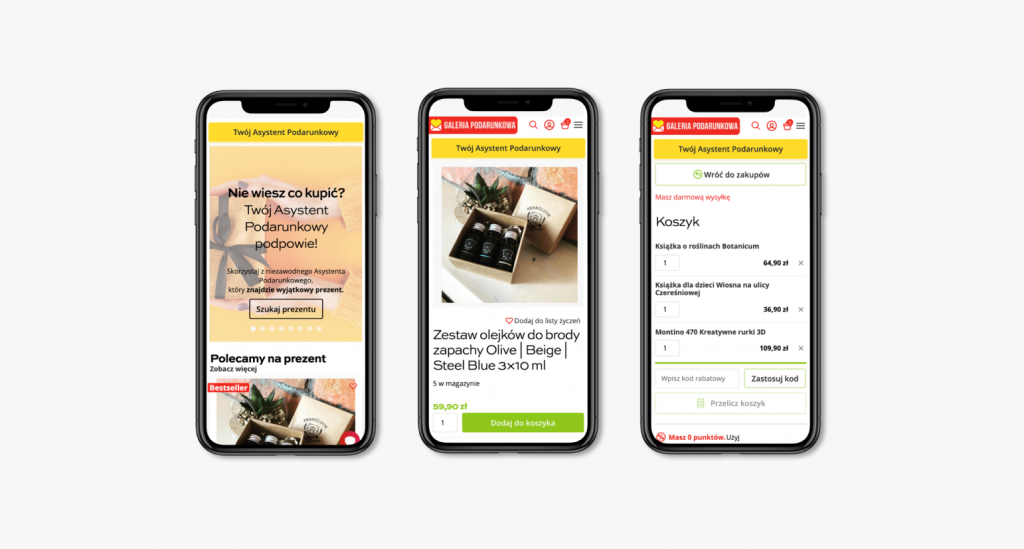 Close cooperation is a gift for the project
The beginning of the project is a good understanding of the client and shopper's needs and expectations.
Our design department worked with the Phone Decore team using benchmarks, core content model and mockups. When the wireframing and design part was closed, we moved to development. Our platform of choice was WooCommerce enhanced with custom elements.
Throughout the project, our experts also provided substantive support to the client. During the conceptual work, together, we agreed to strongly depart from the original idea the client had for the shop. It was very beneficial for the final solution and made the Phone Decore team pleased to help them avoid traps and shaped 'Gift Gallery' into the solution that serves their goals.
We worked very closely – weekly meetings and frequent demos ensured that our client received the solution they expected.
Experiences that boost sales
Thanks to the extensive and easy-to-use CMS, nothing stops our client from maximizing sales thanks to the immediate response to the client's needs and serving relevant content on the page.
Robust search and personalization options allow shoppers to easily find and give their loved ones unique and dedicated gifts.
Do you have a project in mind? Let's create something together. Reach out