Established automotive provider was held back by outdated tech
Euromaster is the leading multiservice automotive provider and a part of the Michelin Group. They were looking for a new B2D e-commerce platform – as part of the B2B commerce offering – for their dealers, franchises, and partners in Sweden and Finland.
To fulfil customer demand during peak periods, their old solution required their team to spend thousands of hours manually doing tedious work in various disconnected systems. The cost of sales and customer service was skyrocketing – the legacy systems desperately needed to be replaced.
To streamline sales, fulfilment and invoicing, multiple business processes and systems had to be combined in one modern web platform, fully integrated with third-party systems.
We established clear goals together for a long-term success of the initative
In order to set the project up for success, it was vital to define our goals and key metrics at the beginning. Together with Euromaster, we identified five priorities:
Increase Euromaster sales
Decrease cost, waste, and manual labour in sales and customer service
Improve data quality and provide sales analytics
Introduce modern user experience
Improve back-office systems efficiency
How did we draw a roadmap for the new solution?
Not only did we have to determine the goals and success metrics (KPIs), we had to establish ways to measure them. The measurements needed to be clear and actionable so that they could guide our shared decision-making.
Having clear KPIs allowed us not only to regularly assess the long-term return on investment as we built the new system, but also to effectively improve the post-launch performance.
In-depth research – understanding the customer and user needs first
Early on, we gathered important information about the needs of different users:
In-depth contextual interviews in the workplace
Poll of Euromaster partners, franchisees, and customers,, with over 100 responses received
Feedback about current web platform
Comparison and benchmarking against main competitors
Pains, gains, and goals
Review of 5 competing B2B automotive commerce platforms
Design of the User Requirement Specification
Definition of use-case scenarios and interaction flows
The results were clear but crushing: when compared with their competitors, Euromaster's platform came out as the worst.
However, all of this information equipped us to move forwards. We translated the use-case scenarios into detailed User Stories, which gave our team a specific and precise vision of the functionalities we needed to provide.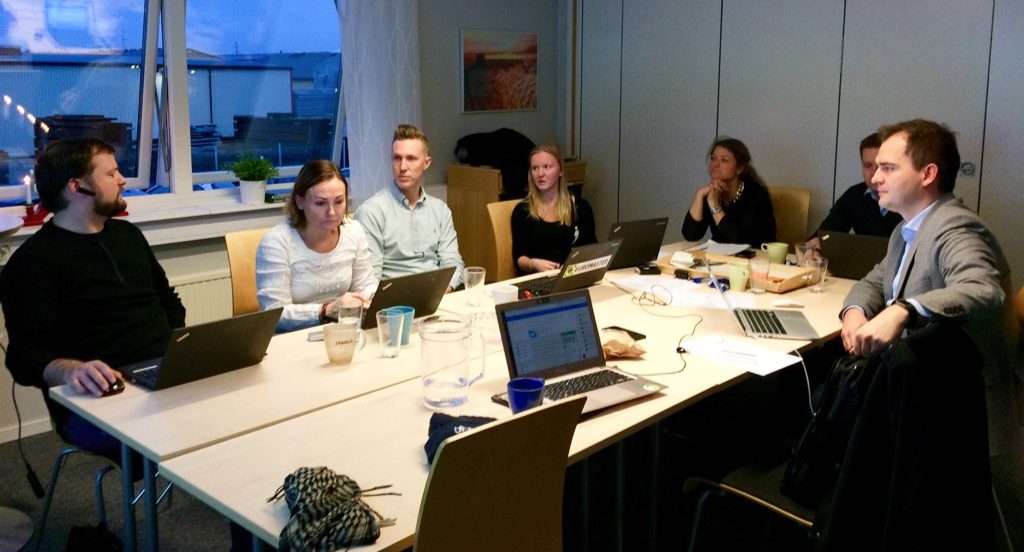 A custom B2B platform with top-of-the-line technology
We conducted a robust cross-department discovery phase with Euromaster, analyzing and helping to develop their product and customer management processes. Thanks to this close collaboration, our team was able to really make an impact with the new solution.
The product we introduced is a custom Laravel-based platform, enhanced with a modern React-based interface for placing and carrying out orders, invoice processing, and more.
The system fetches and processes data from multiple sources, creating one consistent source of information for all buyers and sellers.
It enables active management of price parameters and product availability, and displays real-time open market data through integrations with other systems.
The application is used not only by the buyers but also by internal Euromaster teams. We used workshops, data analysis, and Hotjar recordings to understand and optimize the user experience.
Client says
Maximum efficiency with API Integrations
The B2B platform is integrated with over a dozen external systems. Information is pulled in from other data sources to maximize the platform's functionality, customer experience, and speed.
Functionalities include:
Microsoft Azure-based services: ‍Active directory user and customer management (CRM) integration.
Vehicle plate number identification system: Provisioning of ready-to-use complete wheels for a specific car model
Financial systems integrations: Order splitting and placement, income margin data
Online payment system integration: International online payment operator – Adyen
Exchange rates: up-to-date information about exchange rates and reference interest rates are integrated automatically and continuously
PIM (product management system): Product information (photos, categories, product features)
Däckdata: Pricing information, customer-specific discount information
Vehicle visualization: Automated search and visualization engine
41% top-line growth, €200k bottom-line savings – and still growing
Our custom solution became the main tool for the sales and finance departments for calculating complex discounts, reinvoicing, and document circulation. The new platform helps to deliver great client service and eliminates manual work and frustration for employees.
In the 2021 peak season, Euromaster's sales increased by more than 41%, compared with the corresponding period in the previous year.
And in the two years since the launch of the platform, process automation alone saved Euromaster €200,000 on their bottom line. According to projections, the whole cost of the project will be recouped by the end of 2022.
We are proud that, from the very beginning, Frontkom's team was not only a contractor but also a primary consultant on the project and beyond, offering continuous technical, business, and process management support.
Do you have a project in mind? Let's create something together. Reach out