How will Drupal Gutenberg help you?
How to introduce Drupal Gutenberg?
02
MVP to get you going and set the workflow
03
Set up private Gutenberg Cloud and migrate
Our achievements
2019
Best module
Best public website
Best non-profit website
Best theme
2018
Best module
Best integration
2017
Get help directly from Drupal Gutenberg creators
We've built it. No one knows the combination of Drupal with Gutenberg better than us. Even though our prices are not on the lower end, the return on investment is still better. Reach out and test us on the topic.
Why did we create Drupal Gutenberg?
We have seen dozens of companies with amazing content creators, but solutions blocking their potential.
‍
As Drupal experts, we decided it is time to help them unleash this power. It started a couple of years back now. Frontkom was aiming at solving a real-life problem for lots of clients. They all need a proper landing page builder. And there are hundreds out there. But they all had issues – either with usability, performance, UX or scalability. So we researched to learn as much as possible from other solutions out there and build something for Drupal.
We ended up with Gutenberg from the WordPress community. The result is the best of both worlds; the simplistic starting point with a clean interface, and the powerful and performant solution giving unlimited opportunities.
Frontkom made a CMS agnostic version of Gutenberg. That was proof of the concept for the WordPress team to continue evolving the editor to what it is today. From that day Frontkom has been the maintainers and lead developers for Drupal Gutenberg and is constantly improving the Drupal module to solve content creating challenges.
Clients say
Save your team frustrations
Drupal Gutenberg is helping content creators to focus on the right things. Do you want to test adding another button, or move some sections further up the page? With help of Drupal Gutenberg, it will take just a few minutes to launch on the page. You save hours usually spend on understanding the CMS interface – just jump in and create – it is that intuitive.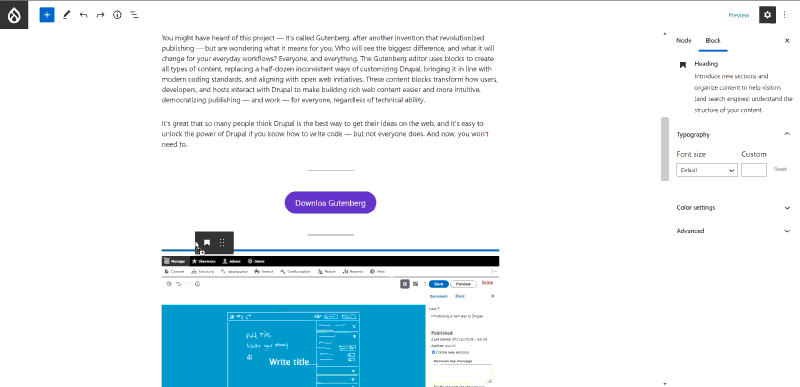 Inspire your content creators
We want your writers to WANT to create content. That is why we put so much emphasis on the user experience. Adding and removing elements, moving stuff around in Drupal have never been quicker. Block-based UI will inspire your team to create more engaging content. Just start to play with it!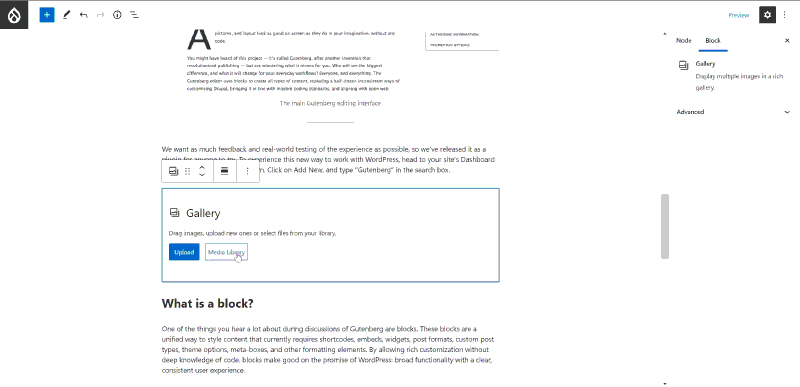 Finally, fall in love with Drupal CMS
Introducing new CMS was a great investment. Now it's time to make most of it.
Our goal was to create an environment to eliminate the disadvantages of Drupal CMS where the flexibility can become unneeded complexity.
Make your content deliver revenue
If your content underperforms Drupal Gutenberg will help you optimize it.
Swift content changes and A/B tests are the keys to making content deliver your business goals. Need more help in optimizing your marketing? We can help you.
Why Frontkom?
It is all about the return on investment. To stand out as a winner in your market you need to constantly optimize. Not only the tech solution but also your content. We know that. Frontkom has built all kinds of Gutenberg solutions. Everything from simplistic easy-to-use solutions, to advanced integrations, and dynamic building pieces that save your time and personalize content to your customers.
Our primary focus is to create value for your business. We'll find that sweet spot where the solution inspires your content creators and help them to optimize the content at all times.
Are you always able to keep your content relevant? If not: What do you think that costs for your business?
Try it out yourself
Minimalistic
High performance
In-editor video player
Intuitive user interface
Easy drag-n-drop features
Effective help texts and tutorials
Try it here
Do you have a project in mind? Let's create something together. Reach out